the role of cullin-3 for skeletal muscles
In our new manuscript, we outlined the role that Cullin3 E3-ligase function plays for the development of nemaline myopathy in a murine model of the disease. Using mice that are deficient of Cullin-3, we define a novel molecular pathomechanism that may be at play in patients suffering from mutations in KBTBD13. The manuscript can be found at JCI Insight.


---

Main objectives are to study:
further characterize muscle specific functions for E3-ligases of the cullin family
identify substrate-adaptor proteins for cullin-3
investigate the role for cullin-3 for myopathy development
---
Related Publications
---
Future Directions
We are currently investigating whether E3-ligases of the cullin protein family play a greater role for muscle specific protein turnover than previously anticipated. Of particular interest is the possible role that cullin-3 plays for the development of skeletal and cardiac muscles, as well as for the etiology of muscle myopathies.

Parts of this project are the focus of Dr. Blondelle's research project.



---
Collaborators on this project
Dr. Jeffrey Singer at Portland State University, OR
Dr. Jane Seto at Murdoch Children's Hospital, Australia
Drs. Careina Wallgren-Pettersson & Katarina Pelin at the University of Helsinki, Finland
Keywords: degradation, cullin, E3-ligase, ubiquitin.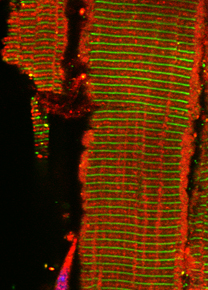 Section 'Sub' Navigation: